How to replace your DXD pump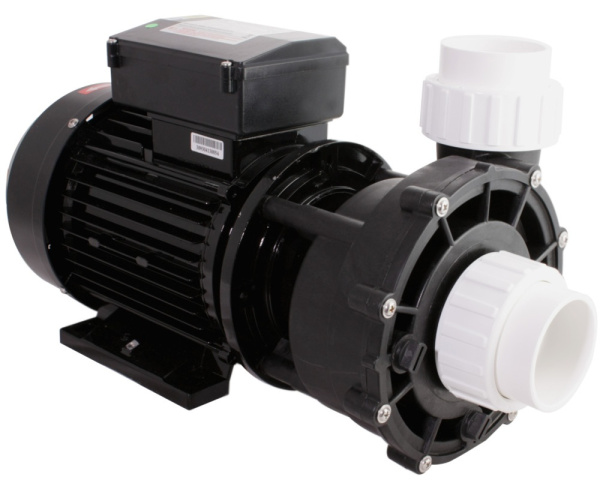 Do you want to replace the chinese DXD pump on your spa? Even though we do not sell them on our website, you will have no trouble finding a replacement: there are models of a similar size, mostly from LX Whirlpool, that have the same functionnalities.
We encourage you to compare the performance on your old pump with the suggested replacement pump, and also their dimensions, size, and connections.
A few centimeters, or even a few milimeters, can make a difference if there is little space around your current pump. Don't forget to also check the size of your connection pipes and sockets.
If in doubt, feel free to contact us!
Single-speed pumps
Model
Power
Dimensions
(L x l x h)
Discharge /
Suction
Connections
Best
replacement
DXD-310D
1 HP
0,75 kW
380x135x205 mm
centre / low
48 mm or 1,5"
LX TDA100
DXD-320E
2 HP
1,5 kW
410x180x240 mm
select / centre

60 mm or 2"
LX LP-200,
WP200-I
DXD-330A
3 HP
2 kW
465x180x260 mm
select / centre
60 mm or 2"
LX LP300
DXD-20A
2 HP
1,5 kW
420x180x220 mm
select / centre
60 mm or 2"
LX LP-200,
WP200-I, TDA200
DXD-30A
3 HP
2,2 kW
420x180x220 mm
select / centre
60 mm or 2"
LX WP300-I
DXD-40A
4 HP
2,8 kW
420x180x220 mm
select / centre
60 mm or 2"
WW Executive 3kW

Two-speed pumps
Model
Power
Dimensions
(L x l x h)
Discharge /
Suction
Connections
Best
replacement
DXD-315AS
1,5 HP
0.25 / 1.1 kW
415x160x125 mm
centre / low
60 mm or 2"
none
DXD-20AS
2 HP
0.25 / 1.5 kW
?
select / centre
?
LX WP200-II
DXD-30AS
3 HP
0.45 / 2.2 kW
?
select / centre
?
LX WP300-II
DXD-320ES
2 HP
0.4 / 1.5 kW
420x180x250 mm
select / centre
60 mm or 2"
LX WP250-II
24-hour circulation pumps
Model
Power
Dimensions
(L x l x h)
Discharge /
Suction
Connections
Best replacement
DXD-310A
1 HP
0.75 kW
380x135x205 mm
centre / low
48 mm or 1,5"
LX DH1.0,
JA100
DXD-310B
0,75 HP
0.55 kW
380x135x205 mm
centre / low
48 mm or 1,5"
LX DH1.0,
LX JA50
DXD-310X
0,5 HP
0.4 kW
380x135x205 mm
centre / low
48 mm or 1,5"
LX JA50
DXD-312E
1,2 HP
0.9 kW
420x160x200 mm
select / low
48 mm or 1,5"
none
DXD-315E
1,5 HP
1.1 kW
420x160x200 mm
select / low
48 mm or 1,5"
none
DXD-1A
1 HP
0,75 kW
430x165x240 mm
select / low
48 mm or 1,5"
LX DH1.0,
JA100
DXD-2A
1,5 HP
1,1 kW
460x165x240 mm
select / low
48 mm or 1,5"
LX E450,
JA150
DXD-8A
0,75 HP
0.5 kW
390x130x185 mm
centre / low
48 mm or 1,5"
LX JA75