Balboa BP6013G3 control system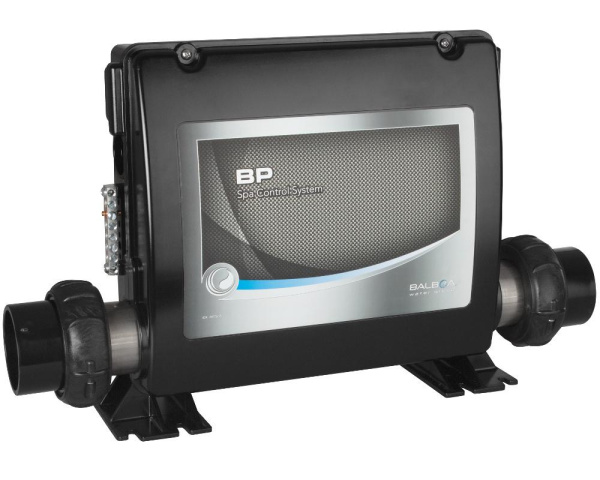 The Balboa BP6013G3 control system, with its integrated 3 kW Incoloy heater, can manage:
Circulation pump
Two massage pumps, which can be either single-speed or two speed (or one of each)
Another single-speed pump
Blower
Ozonator
Underwater light
This control box can be connected to a WiFi module to control your spa remotely from an Android smartphone, iPhone, iPod touch or iPad.
Dimensions
Height: 300 mm
Length of heater: 380 mm, without fittings
Length of heater: 498 mm, with fittings
Depth: 108 mm
Heater connection: 2-inch (clamping rings and gaskets supplied)
Compatible with the following keyboards
Main keypads: TP400T, TP500, TP600, TP700, TP900, spaTouch square, oval, spaTouch 2, spaTouch 3 and spaTouch 3+
Auxiliary keypads (without display): AX10, AX20, AX40
Power supply
The BP6013G3 system is delivered pre-configured for a single-phase power supply. It can also be configured with a three-phase power supply (for a distribution of the various units between the phases). If you have additional questions, please refer to the user's manual or contact us when placing your order, and we will take care of the configuration before sending the system.
You may also want to replace your cable gland if necessary!
Warranty
2-year Tubs Parts warranty
Balboa part numbers
Control box : 59259
PCB only : 56833-03
Expansion board only : 59097
Heater only : 58279
Documentation
Technical Documentation 5683x-02
Technical Documentation 59259