Balboa heat pump pack Clim8zone + BP2100 G1 + spaTouch 3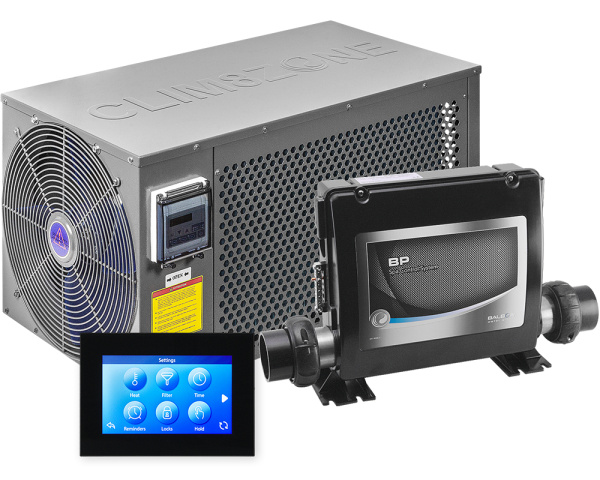 This Balboa heat pump pack features the BP2100 G1 control system, the Clim8zone heat pump and the spaTouch3 keypad. It is the perfect solution to equip a new spa, or to upgrade an existing spa with a heat pump to reduce its energy consumption. The pack includes all the main components to control and heat your spa with one of the most economical, compact and quiet reversible heat pumps on the market.
The Balboa BP2100 G1 control system, can manage a circulation pump, up to 3 single or dual-speed pumps, a blower, an ozonator and an underwater light. It also includes a built-in 3 kW heater which can be used in conjunction with the heat pump if necessary.
Connect the BP2100 G1 to the Clim8zone heat pump with its data cable, where it will be automatically detected. Clim8zone has heating, cooling and automatic modes to heat or cool the water in any season, on spas of all sizes, up to swim spas. No additional electrical circuitry is required, as the Clim8zone works directly from the spa's control system.
Now you can directly manage the control system and the heat pump with the spaTouch3 keypad. The third generation of Balboa's touchscreen keypads includes the latest capacity touch technology, and remains perfectly responsive in wet conditions. Its 5" touch screen also has a new user interface to make navigation easier and more fluid.
Dimensions of the BP2100 G1
Height: 268 mm
Width of box: 311 mm
Width of heater: 381 mm, excluding the unions
Depth: 112 mm
Plumbing connections to heater: 2" (connections and o-rings included)
Dimensions and performances of the Clim8zone
Width: 794 mm
Total height: 430 mm
Depth: 474 mm
Heat pump plumbing connections: 50 mm (condensation drainage pipe and clamp, two unions with gaskets, and a wrench to tighten them included)
Performances
| | | | |
| --- | --- | --- | --- |
| Ambient temperatures | Heating capacity | Power input | COP* |
| 25°C | 6.3 kW | 1.1 kW | 5.8 |
| 15°C | 5.6 kW | 1.1 kW | 5.1 |
The EER (Energy Efficiency Ratio) of the Clim8zone when operating in cooling mode is 3.5 at an ambient temperature of 35°C.
*COP = Coefficient of Performance
Dimensions of the spaTouch 3
Length: 146 mm
Screen: 127 mm (5")
Width: 102 mm
Thickness (screen): 9 mm
Depth: 23 mm
Cut-out area: 128 x 83 mm
Warranty
2-year Tubs Parts warranty
Balboa part numbers
BP2100 G1 control system : 56390-05
Clim8zone heat pump : 57255-06
spaTouch 3 keypad : 50261-05
Documentation
User's Manual - spaTouch3 + Clim8zone
Clim8zone installation instructions
User's Manual - spaTouch3 (general)