The (not so) secret meaning behind Pleatco's filter names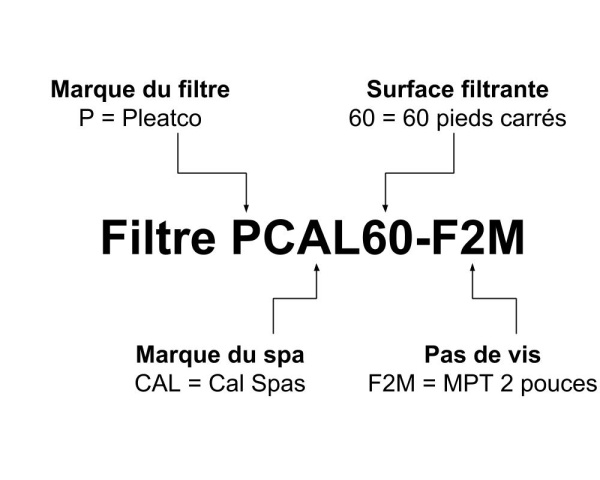 If you are on this page, then you likely own a Pleatco filter. Pleatco is the brand behind most spa filters, and have been making filters in the US for over 40 years. You probably know which model you need (if not, please contact us). But do you know what the combination of letters and numbers on each filter means?
Pleatco references have several components
They all start with a P
The next two letters reference brand of the spa or equipment for which the filter was made
Numbers indicate the filtration surface
Other lettres indicate the attachment type at the bottom of the filter
Special options, like antimicrobial filters, may be at the end of the references
The most common models
Let's take for example PRB35 or PWW50 filters. These models have the simplest references: P-RB-35 and P-WW-50 P = Pleatco RB = Rainbow, and WW = Waterway. These are the companies that originally asked Pleatco to manufacture these filter cartridges, to add them to their filtration system. These models have been used by other brands since. 35 and 50 = 35 and 50 square feet (= 3.3 and 4.7 square metres), which is total surface area of the filtration fabric. Other common brands with Pleatco filters include: Caldera (PCD), Wellis (PWL), Sundance (PSD). You can find a full list at the bottom of this page to find the correct filter depending on your spa.
The filtration surface
The filtration surface of the Pleatco filters sold on our website ranges from 6 to 200 square feet (1 square foot ≅ 0.1 square metre). If a filter with a filtration surface of 50 square feet was originally installed on your spa, keep the same dimensions for your next filter. The bigger your spa the more water it contains, the bigger your filter and its filtration surface will need to be, unless you want to clean your filters by hand frequently.
The screw threads
What do P2, P4, and XP3 mean? Filters don't all have the same threads, but you can figure out which one you need by looking at the Pleatco part numbers. Obviously, you can't change the thread, but it is occasionally possible to use an adaptor (like this 2" MPT filter mounting fitting).
Different types of screw threads
| | |
| --- | --- |
| P2 | SAE 1,25 inches (Ø ext.: 39-40 mm) |
| P3 | SAE 1,5 inches (Ø ext.: 46-48 mm) |
| P4 | MPT 1,5 inches (Ø ext.: 47 mm) |
| F2S | SAE 2 inches (Ø ext.: 60-61 mm) |
| F2M | MPT 2 inches (Ø ext.: 58-59 mm) |
| F2L | MPT long 2 inches (Ø ext.: 58-59 mm) |
| XP | Opening 48 mm |
| XP3 | Opening with clips 48 mm |
| XP4 | Opening with clips 48 mm |
| XF2M | Opening with clips 60 mm |
| XF2S | Opening with clips 60 mm |
Antimicrobial filters and other options
What do M, N, and SET mean ? The references on certain filters end with a code, usually indicating the type of fabric used or if the filter is sold in bundles of two.
M = an antimicrobial fabric, which limits microbial activity in the spa

TC = top closed

N = new style, where the filter will be similar to the original model but will not be compatible because of some modifications (for example, the PCD50 and the PCD50N have a different bottom extremity)

SET = 2 filters sold together
If you have any other questions, feel free to contact us for more information.
Full list of spa manufacturers
Here you'll find all of the companies for which Pleatco had made filters (you should be able to find your spa's brand).
| | | | | | |
| --- | --- | --- | --- | --- | --- |
| Pleatco | Fabricant | Pleatco | Fabricant | Pleatco | Fabricant |
| PA | Hayward | PFF | Freeflow | PMT | Martec |
| PAE | Advantage | PFG | Pleatco full grid | POX | Onyx |
| PAP | American Predator | PFS | Pleatco full grid set | PPC | Sta-Rite |
| PAQ | Aqua Spa | PFV | Fountain Valley | PPCO | Poolco |
| PAQV | Aqua Vac | PFW | Fox Wallpack | PPF | Purex |
| PAS | Artesian Spas | PG | Gerico | PPG | Sunrise |
| PAST | Astral | PGC | Gulf Coast | PPI | Seven Seas |
| PAT | Atlantic-Haugh | PGF | General Foam | PPM | Marquis |
| PBF | Bullfrog | PGS | Gatsby | PPR | Premier |
| PBH | Baker Hydro | PH | Harmsco | PRB | Rainbow |
| PBW | Bestway | PHC | Hercules | PRW | Recreation Warehouse |
| PC | Coleco | PHG | Pleatco half grid | PS | Sylvan |
| PCAL | Cal Spas | PHO | Hoesch | PSANT | Strong |
| PCC | Pac Fab | PHP | Haugh-Atlantic | PSD | Sundance |
| PCD | Caldera | PIC | Icon | PSG | Saratoga |
| PCH | Christal | PIF | Infinity Spas | PSI | Pageant Spas |
| PCL | Columbia | PIN | Intex | PSN | Sunrise |
| PCM | American Products | PJAN | Jandy | PSON | Sonfarrel |
| PCO | Cooper | PJ | Jacuzzi | PSR | Sta-Rite |
| PCP | Regency-Nemco | PJB | Jacuzzi Bros. | PSS | Soft Sider |
| PCS | Coleman | PJC | Jacuzzi Cantar | PST | Spa-Tech |
| PCST | Coast Spas | PJW | Jacuzzi Whirlpool | PTL | Pleatco |
| PD | Doughboy | PL | Lomart | PUST | Us Tooling |
| PDC | Pleatco Dual Core | PLB | Leisure Bay | PVT | Vita |
| PDM | Dream Maker | PLBS | Leisure Bay | PW | Wet Institute |
| PDO | Dimension One | PLW | Seasonmaster | PWC | Waterco |
| PDS | Dakota | PMA | Master Spa | PWK | Watkins |
| PDS | Dolphin | PMAG | Magnum Filters | PWMC | Wmc Ind |
| PDV | Discovery Spa | PMAX | Maxx Spas | PWW | Waterway |
| PFAB | Pac Fab | PMS | Muskin | PXST | Hayward X-Stream |