Covers
The cover is one of the most important components of your hot tub, as it provides critical insulation (especially if it is installed outdoors), saving heating energy. It also protects the spa water from the weather and prevents debris from falling into the water.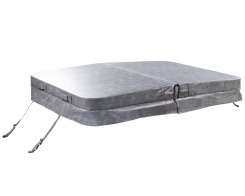 Rectangular 178 x 131 cm
Rectangular shaped with rounded corners
Dimensions : 178 cm x 131 cm
Radius of the rounded corners: 17 cm
Skirt length: 8 cm
High quality PVC, toughened handles, reinforced opening straps, safety lock.
more information...